In addition to the eJudged app being in action and gaining exposure at The SEMA Show thanks to the Mothers Shine Award competition, we also had the privilege of unveiling a project of our very own to the showfloor. We partnered with Ford Motor Company this year to create a mobile command center – and debuted the vehicle along with nine other customized Ford Transits as part of #FordSEMA's Vandemonium. Our seven passenger Ford Transit Connect Wagon has been turned into a mobile hotspot, and has been customized inside and out. This vehicle will be on display and in action at select events in 2014 – so stay tuned or get in touch with us for availability.
On Day 1 and 2, our Transit was on display front and center at the Las Vegas Convention Center – representing Ford Out Front, along with the Hoonigan Racing madness – just ahead of the big Gymkhana Six release.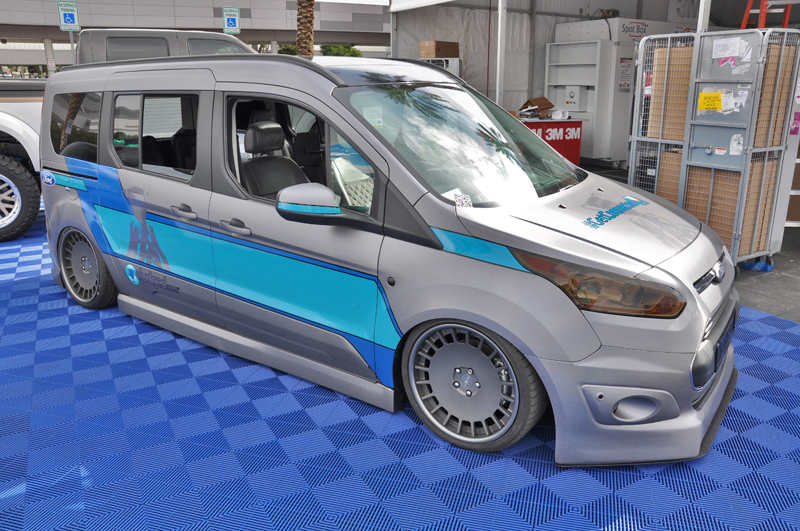 By Day 3 and 4 however, we were living it up front and center inside Ford's massive booth within the Central Hall. Our vehicle was put on display right next to the cool custom t-shirt station where show-goers could design their very own custom Transit Connect and have it printed on a t-shirt. Spectators stood on line for hours waiting to create their shirt, which gave them plenty of time to get acquainted with our project.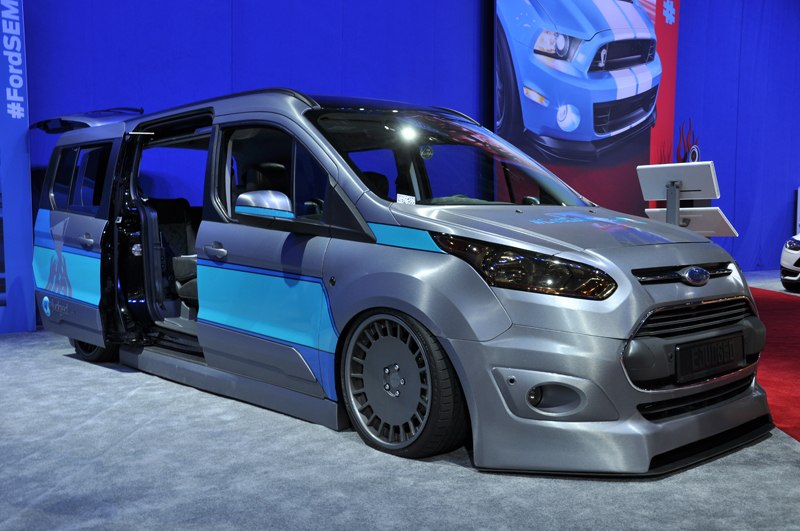 SEMA 2013 was certainly a sign of some big things to come for eJudged. We're proud to have been a part of all the action and extremely thankful to those that gave us the opportunity. Stay tuned as things continue to keep moving forward – and expect to see more updates in the near future – from both events that use the eJudged app and appearances made by our eJudged Ford Transit Connect Wagon. Together this collaboration has sparked the tagline, #GetConnected. So if you've got an event that could use paperless iOS smartphone technology, then feel free to contact us and #GetConnected.
Here are some more detailed photos of the official eJudged Ford Transit Connect unveil:
Our friends at RMiller Autobody helped us design and create this one-off LipsterKits five-piece lip kit (including front lip, front splitter, side skirts, and rear lip). The vehicle was then wrapped by Advert Graphix, featuring 3M's Brushed Steel Vinyl Wrap. Performance Bodega supplied HID and LED lighting for the project.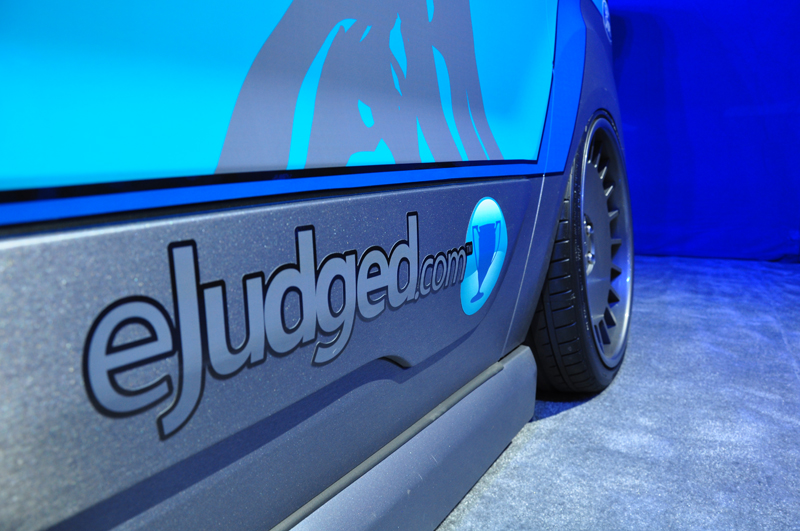 We achieved ridiculous soccer mom stance thanks to our friends at AirLift Company. Then we dialed in the fitment with a chunky set of 19″ forged three-piece VCE Wheels, which were provided to us by Rotiform Wheels, and then wrapped in Falken Tires. Tucked under the car is also a Magnaflow custom cat-back exhaust with subtle turn down tip that we fabricated.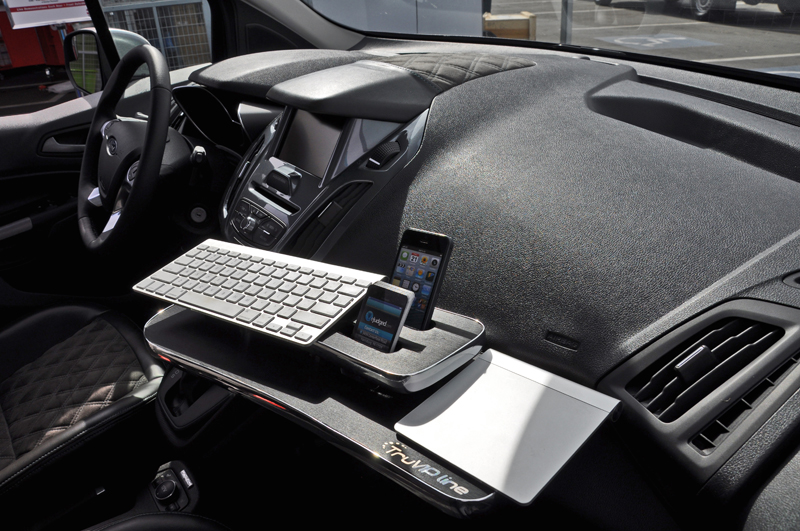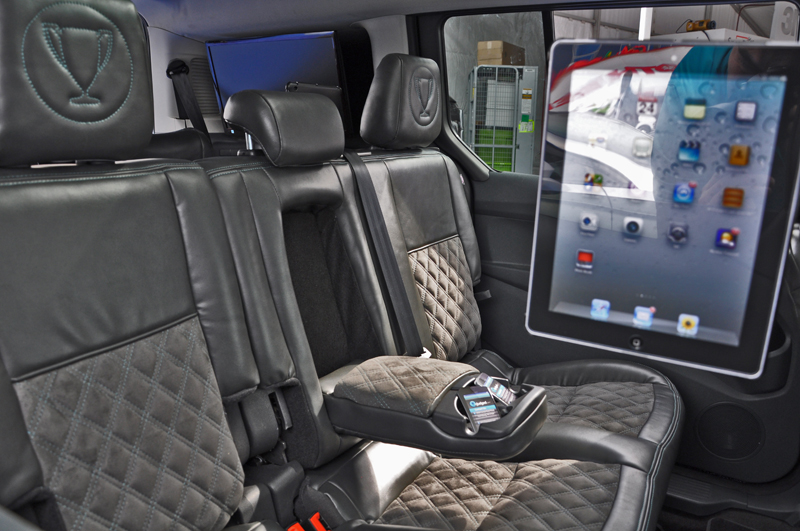 The interior is both executive and functional – combining the Pennell Edition double-diamond stitched treatment courtesy of BK Rodz along with a host of technology upgrades – featuring a wide variety of Apple products. Shout out to our friends at Squeaky Clean, who provided us with the TruVIP Line glove box table that we re-purposed into a wireless keyboard and mouse table. Did we mention that this vehicle started off with a tan interior? Our good friend and attention-to-detail guru, Crunchy, aided us with a full plastic SEM two-tone grey colorchange of just about every panel inside the vehicle.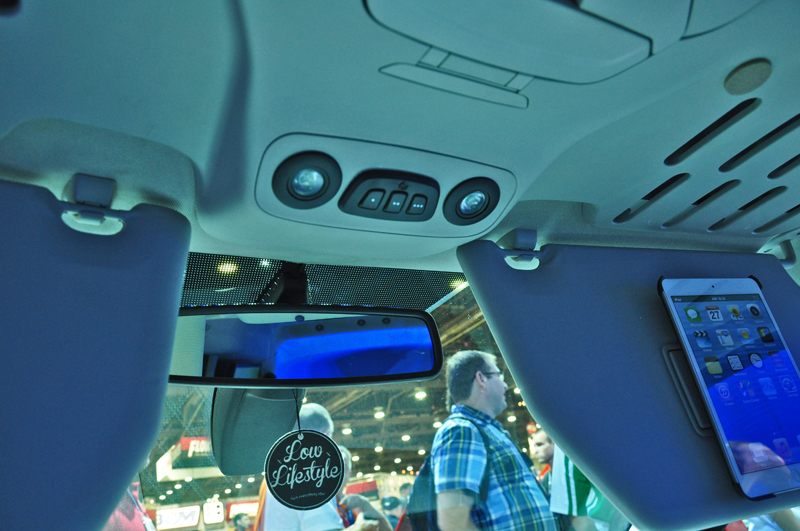 Additional LED task lighting and a HomeLink have been provided by Johnson Controls. And the new car smell has been enhanced with the limited edition LowLifeStyle.com air freshy.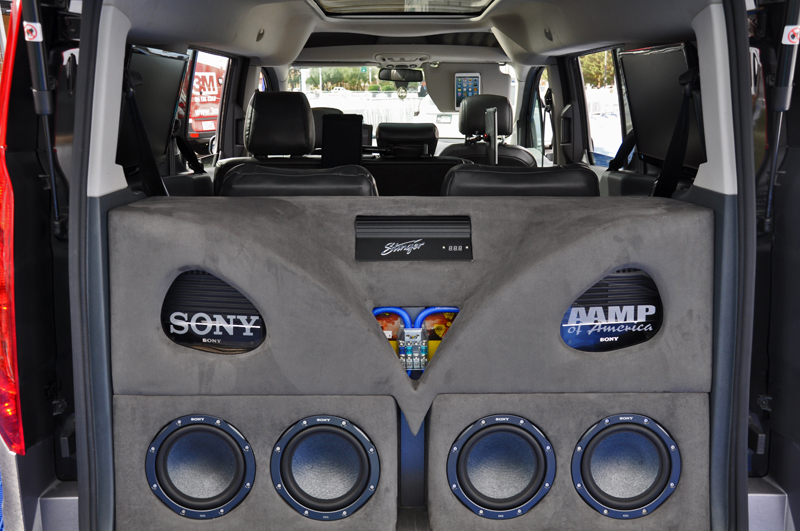 Our long-time friend and colleague, known as IanCredible, helped us with the electronics. His 12-volt knowledge and experience was invaluable. Andy Weaver from Creative Car-Tunes also put in a few sleepless nights on the audio set-up – which features a full eight speaker SONY sound system, powered by AAMP of America and Stinger Electronics products. Additional audio and electronics accessories/hardware were provided by DAS Distributors.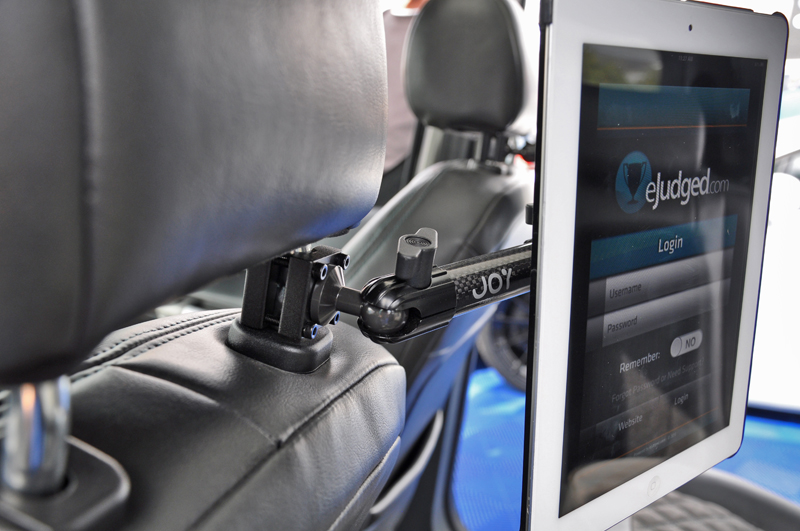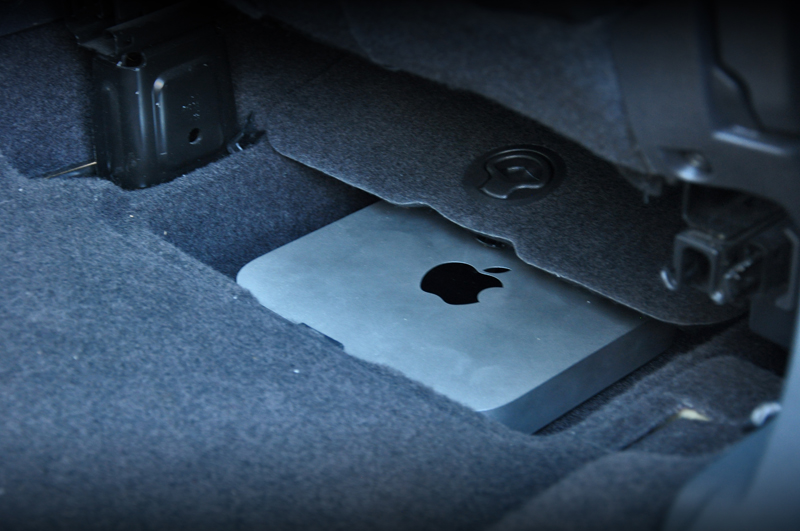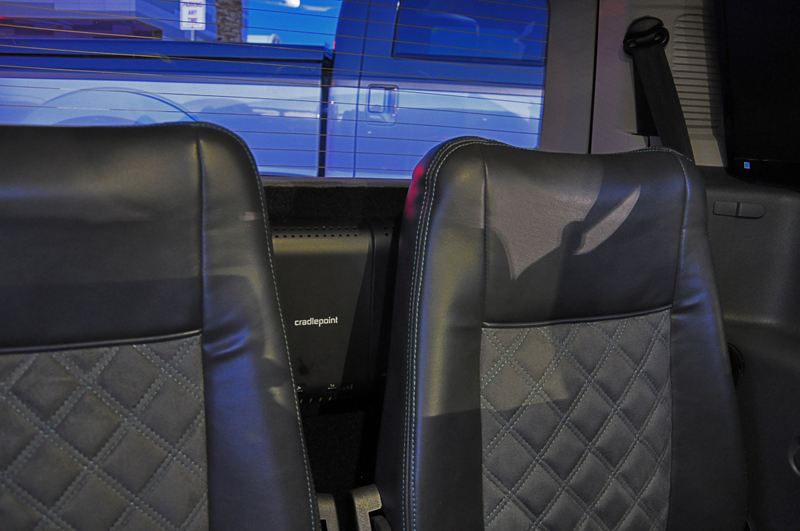 The Joy Factory came thru for us in a big way, sending us some of the coolest iPad and iPad mini mounts we've seen on the market to date! And all of the iPads, iPods, iPhones, laptops, etc (not to mention the Mac Mini tucked into a secret compartment under the front seat) are connected via our built-in mobile hotspot – which uses a Cradlepoint cellular router coupled with a Ruckus Wireless lift-gate mounted WiFi access point.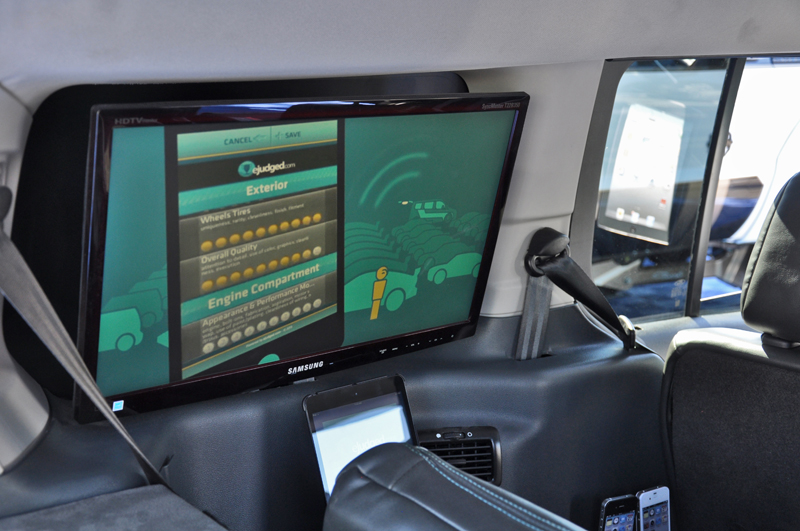 Throughout the week, we were able to monitor live scoring of the competition, as well as show event spectators other aspects of our app. The vehicle features an iPad dock at virtually every seating position, as well as charging stations for Apple devices, USBs, and DC power stations – with the help of Panduit. It can all be brought full circle via an AppleTV which is installed beneath the rear seating area. And thanks to the AppleTV, we were able to also debut our two minute promotional spot, which was put together by the amazing minds at Brain Vessel.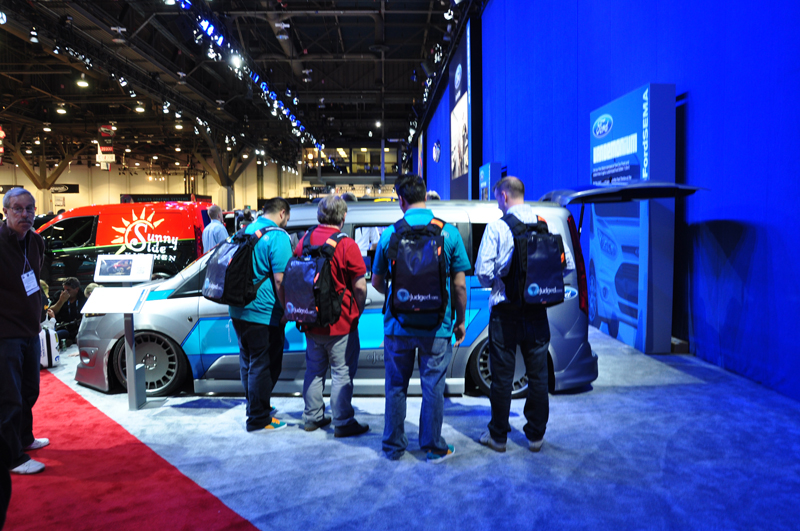 Equilibrium Urban Survival Gear was also sure to get us fitted up with some great bags – which are both functional and innovative – making them a perfect partner for the eJudged vision.
Enjoy the full gallery of eJudged Ford Transit photos: