Ocean City, MD – Stop #2 on the Live-Wire-Media event schedule was an event that we have been attending for well over 10 years now, the OC Car Show. So far it's been a wild and fun ride working with B-Rad and the LiveWire crew. We love to see the variety that turns up for their events. Earlier this spring we traveled to Virginia for their first 2015 event, which was mainly hot rods and classic builds. The OC Car Show, however, was heavy in the import and exotic scenes –  but there were still some impressive hot rods and classics in competition as well. The show was more than a variety of vehicles, there were several halls within the convention center with cars and insane mini trucks on display and entertainment on stages – and there was also an outdoor meet/show and shine going on all weekend. The Air Show was also happening over the boardwalk just a few blocks away so there was plenty to see and experience. We were lucky enough to have our eJudged branding flags flying above the main stage all weekend inside – while our Ford Transit Connect Mobile Command Center was on display outside blasting a WiFi signal across the showfield.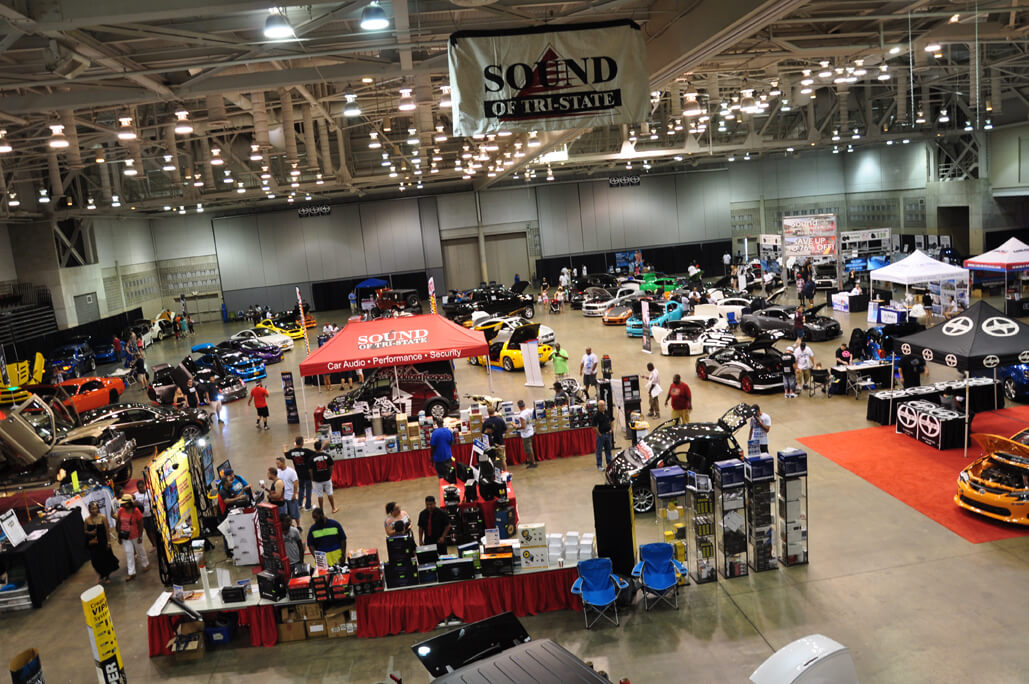 As an added bonus, we got the chance to be reunited with our close friends and fellow SEMA project builders, Aaron and his dad Carl Vaccar. The Vaccars host a nationwide extravaganza known as the Auto Life Tour. Their giant rig was posted up front and center outside, and they were generous enough to let us be a part of their booth – along with their Blood & Grease Clothing Ford Transit Connect. Two Transits that were picked up on the same day from Ford Headquarters and built over a few short weeks for the same SEMA show… back together again drawing attention from the spectators and enthusiasts at the show.
Another successful weekend in the books and we look forward to the next events. The next Live Wire event is the Southern Fried Festival in Langley, VA – immediately followed by OC Jeep Week. You see what we mean about the variety? These guys do it all. Speaking of variety, our next stop(s) are coming up this weekend where we'll have split squads in action at two totally different major events – Carlisle Events' GM Nationals in Carlisle, PA and Euro Hangar in Holland, Michigan. We're looking forward to both events. But for now, enjoy the rest of our photos from the OC Car Show.